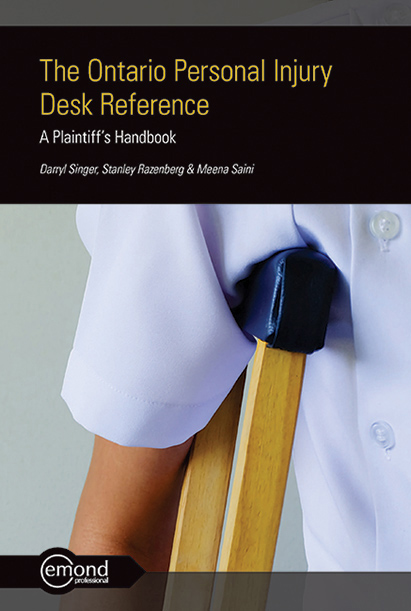 Unlike other texts on personal injury and insurance law, The Ontario Personal Injury Desk Reference is the only book of its kind to offer a straightforward, plaintiff-focused, practice-oriented approach to these types of claims.
Chapters are subdivided into easily searchable and digestible sections, each containing important legal and procedural considerations. This information is supplemented with practical tips based on the knowledge and experience of the author team. This strategic advice will help readers apply abstract concepts to various aspects of practice, including advocacy, client management, practice management, and professional responsibility.
This guide is sure to benefit all plaintiff side practitioners and their staff by offering practical and procedural content on a wide range of personal injury claims.
Chapters
Chapter 1: Introduction
Chapter 2: Motor Vehicle Accidents
Chapter 3: Occupiers' Liability
Chapter 4: Municipal Liability
Chapter 5: Medical Malpractice
Chapter 6: Intentional Torts
Chapter 7: Defamation
Chapter 8: Unintentional Torts
Chapter 9: Heads of Damage in Personal Injury Claims
Chapter 10: Family Law Act Claims
Chapter 11: Expert Assessments Reports
Chapter 12: Housekeeping, Home Maintenance, and Handyman Service Losses
Chapter 13: Collateral Benefits
Chapter 14: Interplay Between Tort Claim and Accident Benefits Claims
Chapter 15: Procedure for Commencing a Claim
Chapter 16: Limitation Periods
Chapter 17: Retainer Agreements
Chapter 18: Productions
Chapter 19: Examination for Discovery
Chapter 20: Mediation
Chapter 21: Summary Judgment
Chapter 22: Trial of a Personal Injury Tort Case
Publisher information
Author(s): Darryl Singer, Stanley Razenberg, Meena Saini
ISBN:  978-1-77255-223-2
Publisher: Emond Publishing
Page Count: 300
Copyright Date: December 2017
Price & ordering information
Available as a spiral bound softcover ($92), or an ebook ($79). Access to a companion website is included with a print or ebook purchase.